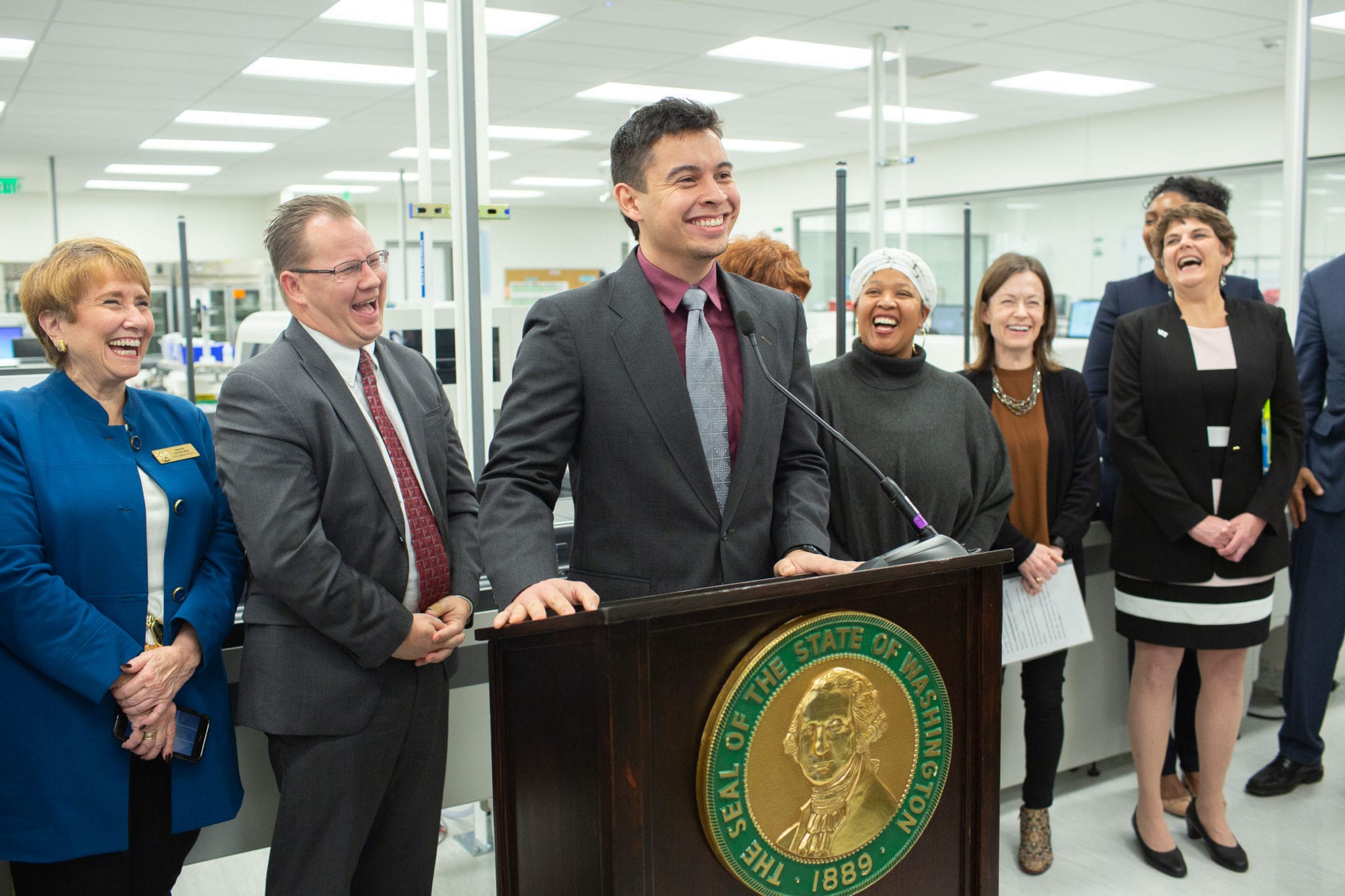 Governor's Proposed Budget Makes Strong Investments in Career Connected Learning (December 13, 2018)

Governor Inslee stepped forward today with strong support of the Career Connect Washington Plan. His budget for the biennium provides $110 million over the 2019-21 biennium to fund expanded career connected learning opportunities for Washington students, reflecting a full implementation of all aspects of the Career Connect Washington Plan. This includes:
$22 million for increasing enrollment in K-12 and Community and Technical College programs associated with Career Launch programs. This includes registered youth and adult apprenticeship programs.
$2 million for coordinators in the Community and Technical Colleges and in public universities who will interface with industry on career connected learning programs.
$26 million in grant funding for program intermediaries who will work with industry and educators to develop curriculum and scale career connected learning programs, including youth and adult registered apprenticeship programs.
$7 million for regional support including grants for regional networks.
$18 million for capital funding grants for equipment in K-12 schools and Community & Technical Colleges.
$6 million for equity supports to underserved student populations.
$6 million for data and marketing support.
$7 million for system implementation, innovation in equivalency and credentialing, and portability and transferability of credits and credentials.
$16 million for incumbent worker training, and specific funding for CCW related programs in health care, information technology, aerospace and the construction trades.
For a more detailed description of the investments in the Governor's budget, please click here.



Career Connect Learning Plan Kick Off (October 25, 2018)

On October 25, Career Connect Washington released a plan that maps the vision, the framework and the strategic approach to meeting the needs of our young people on a statewide scale. This puts Washington state on a path to expanding ways for students to start learning about careers earlier and get more real-world experiences in high school and beyond as Gov. Jay Inslee and a broad coalition rolls out a plan to integrate more career connected learning into Washington schools.
"We're projected to see 740,000 new jobs in Washington state in the next five years. The good news is these are high-skilled, high-pay jobs; the challenge is that 70 percent of them will need workers with a credential and right now, only 40 of our high school graduates are getting there," said Governor Jay Inslee. "We need to engage students in more meaningful ways, from earlier ages, so that as they finish high school and start to make adult decisions about advanced education and training, they'll be doing it from a place of experience."
If you would like to see a video of the meeting and the press event, please visit our Resources page.



CCW System Design  (Mar '18-Oct '18)

In October 2018, Career Connect Washington introduced the strategic plan for building a statewide-system of career connected learning. Important documents about the plan and the benefits to Washington families are below. Throughout the process, we've held regular meetings with key stakeholder groups, presented monthly webinars, conducted focus groups with parents and students, and presented at conferences and meetings around the state.
The "System Design" phase is work that came out of the task force recommendations. This work is led by Maud Daudon and the Business / Philanthropy Leadership Committee and engages leaders in a variety of industries such as:
Advanced Manufacturing
Aerospace
Agriculture
Construction
Healthcare
Information Technology
Life Sciences
Maritime
Utilities
CCW Regional Teams (2017-19)
11 regional teams
Funded by WIOA, JPMC, and local leverage funds
Led by ESD, WA STEM
CCW Task Force  (May '17-Feb '18)
Led by Gov Office, WFB, chaired by Perry England, Brad Smith
May 2017
Governor Jay Inslee launches Career Connected Learning initiative at STEM summit with goal  connecting 100,000 Washington youth during the next five years with career-connected learning opportunities that prepare them for high-demand, high wage jobs. Read more